Nordstrom sale picks for 2020
**This post contains affiliate links. If you make a purchase, I will make a small fee (free of charge to you!) that helps support my makeup and shopping habit!
The Nordstrom Anniversary Sale always seems somewhat controversial. The sale typically starts around the first of August for Nordstrom credit cardholders, then opens to the public two weeks later. There's definitely an incentive to apply for/have a Nordstrom card, and the frenzy around the sale can definitely make that worse.
I don't have a Nordstrom card, so I have only ever shopped the sale when it opens to the public and I typically get most of what I want doing it that way. I in no way want to promote overspending or getting a credit card to do so. I'm in the process of buying a house, so I have learned a lot about credit and balances and all of those things that can affect your credit score. Make smart decisions when considering shopping the anniversary sale!
Now, on to the fun stuff–my picks from the Nordstrom Anniversary Sale and a giveaway! I've broken my picks into a few categories below. I am also participating in a Nordstrom gift card giveaway with other awesome curvy bloggers! Head to my Instagram @danikloap to enter.
Beauty items to restock
I like to search through the beauty items in the Nordstrom Anniversary Sale to see what I use regularly and what I can restock on during the sale. Here are my picks this year:
Beauty Blender set, includes two beauty blenders, a silicone cleaning pad and cleaning soap for $35. Beauty Blenders are my go-to for applying foundation and cc cream. These beat the off-brand ones you can find other places and are worth the investment, in my opinion! You need to replace these about every 3 months, so it's great to keep a stock of these.
Anastasia Beverly Hills Bae-sics kit, comes with a brow wiz pencil and full-size brow gel for $24. This was my first brow product I ever purchased! It's a great product, and I love the spoolie on one end of the brow wiz pencil. The brow gel is my favorite product to set my brows and it lasts all day long.
Urban Decay all-nighter setting spray duo, comes with a full-size and travel-size spray, for $42. This is THE best makeup setting spray! I love having a travel-size one on hand when I'm taking a carry-on bag when I fly.
Becca hydra-mist setting powder, on sale for $23.40. This setting powder is fantastic! It isn't cakey. It's truly like a Snapchat filter for your face. This is a great price point if you're looking for a new setting powder.
Becca backlight primer, on sale for $23.40. I love this primer for a dewy glow without looking greasy or oily. This is a nice primer to have in your makeup bag.
Mario Badescu the essentials set, on sale for $23. This set comes with the facial spray, drying lotion and lip balm. The drying lotion alone is $18, so this is a great deal! I love the facial spray to calm and soothe my skin at night, and the drying lotion works so well to dry out nasty pimples quickly.
Mario Badescu jumbo size enzyme facial cleanser and witch hazel rose water toner, on sale for $30. Both of these products work so well to get your face clean without feeling dry!
FAB and Flawless Kit, on sale for $49. I love First Aid Beauty products, and when I saw this set, I instantly knew it was a great deal! You get a travel-size FAB Skin Lab 10% AHA Resurfacing Liquid; a full-size Ultra Repair Instant Oatmeal Mask; a travel-size Ultra Repair Cream; a travel-size Pure Skin Face Cleanser; and a travel-size Fab Skin Lab Retinol Eye Cream.
New Beauty to Try
I've had my eye on some of these products and these are all great deals if you are looking to try something new!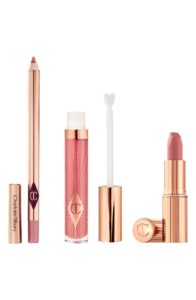 Charlotte Tilbury Lip Secrets set, on sale for $68. This set includes 3 full-size lip products and is a great way to try out some of this brands lip products. I love their lipsticks and lip liners!
Mac Haute Gossip Mini Lipstick Set, on sale for $32.50. This is such a great deal if you're looking for new Mac lipsticks to try or a gift for someone's birthday!
Lancome Lengthening and Defining Mascara Set, on sale for $59.50. This is such a great deal! I just started using the Cils Booster XL lash primer, and it makes a huge difference in the length of my lashes. This set includes 2 mascaras, 1 primer, and one eye makeup remover.
Nars Vacances Face Set, on sale for $49. This set includes a palette with three eyeshadows and a large blush, as well as a mini Climax mascara. This would be great for travel (once we can do that again!).
Bobbi Brown vitamin enriched face base duo, on sale for $60. This is an incredible deal because you're basically getting one for free! These are full-size jars. This product helps moisturize your skin and serve as a primer before you apply your makeup. Find a friend to go in with and you could get this for $30 each!
Charlotte Tilbury Three Beauty Secrets for Glowing Skin set, on sale for $75. I've always wanted to try Charlotte Tilbury's skin care, and this set is a great way to do it! You get the magic cream, magic serum and wonder glow face primer.
Kiehls Day-to-Night Hydration Duo, on sale for $34. With this set, you get the midnight recovery concentrate and the ultra facial cream. This is a great way to try Kiehls if you haven't before!
Beauty/Hair Tool Splurges
The Nordstrom Anniversary Sale is a great opportunity to pick up a more expensive hair or beauty tool you have had your eye on. This year, I didn't feel like there were a ton of great options, but here are some of the ones I think are the best deal:
NuFace Fix and Mini Facial Toning Devices set, on sale for $233.16; this is a savings of over $100. I have the NuFace Mini, which fits my face well and I don't feel like I am missing anything without having the full-size Trinity device. I have definitely seen lifting and toning, especially in my forehead where I have skipped getting Botox since using it! I have wanted to try the Fix; a device to address wrinkles and dark circles under your eye. The set comes with the primer gel (to help conduct the current) for both the mini and fix devices. This is a great deal if you're ready to try microcurrent for your anti-aging routine!
PMD Personal Microderm Device, includes hand and foot kit, on sale for $99. This device can be used all over your body to exfoliate and remove dead skin to help reduce fine line and wrinkles, brighten the skin's tone and texture, reduce the appearance of pore size and diminish the appearance of dark spots. I have been dying to try this, so I'm definitely adding this to my cart when the sale opens to the public!
The Dry Bar Smooth Crew Kit, on sale for $165. This kit includes the Brush Crush heat brush, a Dry Bar brush, and then full-size and travel-size Triple Sec and Prep Rally products. This is a great deal if you've been wanting to try Dry Bar's heat brush!
Dermaflash, on sale for $99. If you've wanted a device to dermaplane at home, this is a great option! This removes peach fuzz (no, the hair won't grow back darker or thicker) and that helps your skincare absorb better and your makeup go on smoother.
Moroccanoil Hydration Deluxe Set, on sale for $85. You get half-liter shampoo and conditioners with a pump, plus a ceramic round brush and a Moroccanoil hair treatment.
Jumbo Size Perfect Hair Day Set, on sale for $99. This comes with shampoo, conditioner, and dry shampoo. If you know you love these products, this is a great time to stock up!
Accessories
I love using the Nordstrom Anniversary Sale to snag a great pair of sunglasses at a discount. These were my favorites that I thought were well-prices and a good deal.
It's My Way 55mm Cat Eye from Quay Australia, on sale for $35.90. These are so cute and all of my Quay Australia's have held up so well! The last ones I bought from the Nordstrom Anniversary Sale lasted three years!
Sweet Dreams 51mm Square Sunglasses from Quay Australia, on sale for $35.90. These are another cute option from Quay Australia!
Tory Burch 57mm square gradient sunglasses, on sale for $99. These are a cute option and a great deal on Tory Burch!
McQ by Alexander McQueen 56mm square sunglasses, on sale for $99. I love the shape and color of these black sunglasses!
Tory Burch Zip Top Crossbody Bag, on sale for $149. This is such a gorgeous and timeless bag, perfect to use on the go!
Tory Burch Carson wallet, on sale for $134. This matches the crossbody bag above. Such a timeless wallet option to pick up during the sale!
Madewell leopard genuine calf hair tote, medium on sale for $119, and small on sale for $99. These totes are classics and this is a great time to pick one up if you've had your eye on them!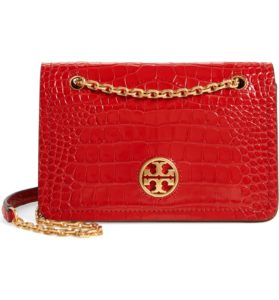 Tory Burch croc embroidered crossbody bag , on sale for $299. OK, this is for sure the most expensive thing I linked to in the Nordstrom Anniversary Sale, but dang this bag is gorgeous! The gold hardware with the bright red bag is so beautiful.
Jewelry
There are some pretty good jewelry deals in the Nordstrom Anniversary Sale. Here are my picks!
Kate Spade mini confetti stud, on sale for $15. These are so cute and such a great deal!
Kendra Scott Ellen Hoop Stud earring, on sale for $28. I love finding good Kendra deals during the Nsale!
Kate Spade pave studs, on sale for $24. These come in several different color options and are so pretty and dainty!
Madewell arc wire earrings, on sale for $17. These are so unique and cool!
Kendra Scott Addison charm choker, on sale for $28. This is a cute necklace for layering!
Kendra Scott Davis drop earrings, layered necklace, and long necklace. All great matching options if you are looking for earrings and necklaces that match!
Kendra Scott Lola mini front-facing hoop, on sale for $28. These are cute and dainty if you aren't into some of the bigger Kendra earrings.
Another Kendra set option if you're looking for something different! I think these Sydney earrings and bar necklace are so nice and dainty.
Madewell Fringe Hoop earrings, on sale for $20. These come in several fun colors and are a steal!
Tory Burch watch, on sale for $129. I know a lot of people have Apple watches, but if you're looking for a gorgeous, classic watch, this is it!
Plus size clothes and bras
Y'all, I have to be honest. I was pretty disappointed in the selection of plus size clothing options in the Nordstrom Anniversary Sale. I have to wonder if some of the small selection is coming from COVID-19 and production ceasing during parts of the pandemic. I've linked my favorite choices below:
Wacoal Red Carpet convertible strapless bra, on sale for $39. Wacoal bras are, hands down, the best bras for plus size gals. I have had such great luck with my Wacoal bras. No underwires breaking or poking me and they hold up for a long time. I wear a 44DDD and I can't say enough about how great these bras are.
Wacoal Underwire Sports Bra, on sale for $45. I didn't realize Wacoal made sports bras, so I was excited to see this in the sale! For sure adding to cart on this one!
Madewell 9-inch high waist skinny jeans, on sale for $85. Madewell jeans are some of my absolute favorites! They hold their shape so well while still having a lot of great stretch. These normally retail around $135 or higher, so anytime I see a sale on Madewell, I try to pick up a pair. This is a great black jean for fall/winter! Madewell also has this vintage high waist option for the same price on sale!
This leopard dress is perfect for fall, and has an even more perfect price tag at only $31!
Great American Good Legs High Waist Skinny Jeans, on sale for $99. This is another brand that has quickly become one of my favorites. Great stretch but yet they don't bag out by the end of the day. These normally retail around $150, so this is another brand that I try to pick up only when they are on sale. These black crops are also cute and a great piece to have in your denim wardrobe.
This jumpsuit is on sale for $60 and is such a sweet print that could work for any season.
Faux leather jacket, on sale for $79. This is so nice and would get a lot of use in my fall and winter wardrobe!
Spanx Faux Leather Leggings, on sale for $64. If you've wanted to try these, they are available in 2X in the Nsale. I have heard you should size up since they run a little small.
If you want to try the leather leggings look at a better price point, these are on sale for $29.
Those are all of my picks and recommendations for the Nordstrom Anniversary Sale! While I feel like there are fewer options this year, I do think there are still some great options for items you can stock up on or try out. Don't forget to head over to my Instagram and enter to win a Nordstrom gift card! Comment and let me know what you're shopping during the Nsale!