Plus-size summer wardrobe staples

If you're looking for good plus-size summer wardrobe staples, there a ton of great sales going on this weekend! I know that sometimes, summer can be tough if you're plus size. You might have insecurities about your body. You might not know where to shop. You might be struggling with weight gain (or even weight loss). You might be frustrated you can't go to the same stores/shop in the same sections as your straight-size friends.
I get it, I've definitely been there in every one of these scenarios. My advice? Try to work on pushing yourself outside of your comfort zone and wear what makes you feel comfortable. Life is too short to spend your summer covering up parts of your body you worry about. Wear the shorts! Wear the tank! Expose your arms! Do what makes you feel good and comfortable.
Here are the items I've either purchased before or added to my cart–okay, carts–this weekend.
*This post may contain affiliate links, which means I may receive a small commission (at no cost to you) if you make a purchase through my links. Thanks for helping support my makeup habit ?
Bras
The summer is a STRUGGLE for those of us blessed with a chest. I want to wear the cute off-the-shoulder tops and dresses without constantly tugging on a strapless bra all day. Here are some of my favorites or ones I'm ordering this weekend:
Curvy Coutour multi-way strapless bra. I just ordered this one and can't wait to try it! It has great reviews and is on sale for $37 plus you get free 2-day shipping! Excited to add this to my plus-size summer wardrobe
Torrid nude microfiber lightly lined strapless bra. I have this bra and what I love about it is that it's not a push-up bra and it has silicone piping on the inside of the cups and band so the bra stays up better. I also love that Torrid's website has different fit models so you can get a better idea of how different items will look on your body style!
Lane Bryant Bandeau Bra. I'm intrigued by this one because it has great reviews and while it doesn't have molded cups, it does have underwires to provide better support. It has excellent reviews and I'm excited to try this one out!
Maurices lace bandeau bralette . This comes in plus and straight sizes! It does have molded cups and while it's not the most supportive bra I've ever had, it is super comfortable. I wear these under tanks around my house. When I have sunburns, I've worn these out in public and feel comfortable. I wear a size 3 and am a 44DDD. This is a great price normally, but this weekend you can use a code on the website to get it for only $12!
Skims bandeau bra. OK, so while this isn't going to be as supportive as a more traditional underwire strapless bra, I love having bras like this on hand for sunburns. I'm currently healing up from my first sunburn of the summer when I thought I didn't need sunscreen while cleaning our pool (stupid move), and I haven't been able to wear a traditional bra for a week now. I've been wanting to try Skims and this bra goes up to a 4X and has great reviews.
Shorts
Eloquii distressed denim shorts . I hate these are sold out! They've gone out of stock a few times, but it's worth following the link to get on the waiting list! These are so stretchy and comfortable. I have worn them so much since getting them and they aren't wearing out in the thighs and the distressing has held up well in the both the washer and dryer. Here's a link to the white version of these shorts. They are $29 with code summertime! Such a good deal that I definitely have to order this pair, too!
Here are some great dupes for the Eloquii shorts I love so much that you can add to your plus-size summer wardrobe from Target and Maurices. Both stores have these on sale!

Maurices , $27 Maurices , $33 Maurices, $24 Target, $12!
American Eagle Mom Short. AE has some really cute plus-size short options! I love that you can shop sizes 000-24 womens all in the same section of the website. This mom short comes in a variety of washes and some are distressed. Some of the sizes are sold out in different washes, but you can see all of them at
he link. They are half off for $25!
Target paperbag waist shorts. If you like a soft short, this is a great option! I ordered this leopard pair, but it is now sold out in plus size but still available in straight sizes. This Ava and Viv version comes in black, navy and red and is very similar to the leopard pair. They are super comfortable and I love the little belt you tie in a bow! These are a steal for only $15!
Torrid drawstring linen stripe shorts. This is another fun option for shorts that aren't denim. I love this print and think it would pair well with a white or coral tee. These are $45.50, but would be cheaper with Torrid Cash (going on through May 25)!
Jeans
Wait…why would we be talking about jeans for a plus-size summer wardrobe? While I don't always want to wear jeans in the summer, sometimes you need a good pair to wear on a date, to a more casual work meeting, etc. Here are a few of my favorites!
I am obsessed with these American Eagle jeans and I'm so glad they've added plus sizes. These are so sft and stretchy. They really feel like yoga pants! I couldn't find this exact style, but here's a similar AE style for $35, and here's a non-distressed pair for $37. These go from size 00 to 24 women's.
I wear these Madewell jeans CONSTANTLY and the thighs still haven't worn out and they don't bag out over the day. Madewell jeans are not cheap, but I think they are a great investment. There are only a few sizes left in this one, but they are on sale for $35! I also live in these Madewell jeans. They aren't on sale, but I've worn them often over the last year and they still look brand new!
Tees/Tanks/Tops
Old Navy EveryWear Tee. Old Navy has the BEST basic tees for a great price, especially when you can catch them on sale! I order up a size in these and tie them up. I wear them on their own or under a flowy cardigan or kimono. It comes in white, garnet and black. These are a must for your plus-size summer wardrobe!
Old Navy EveryWear tank and Old Navy textured lightweight cardigan. This tank/cardi combo has been my go-to this spring and (almost) summer! I love these tanks and have bought them in the different colors that have rotated through the seasons the last few years. Right now they have a cool mango color, black, and a red floral print in stock. These are such a great deal at only $8! I love these to wear on their own with shorts and jeans, or styled like I wore it here tucked into shorts with a loose cardigan.
Torrid floral cold shoulder tee. This is so pretty for spring and summer! You could dress this down with shorts and sandals or dress it up with jeans and wedges. Torrid currently has Torrid Cash going on through Monday, but if you don't have cash, this is still a great deal at $38 and free domestic shipping!
Lane Bryant sleeveless sweater tunic. Does everyone else feel like they are seeing sweater tanks everywhere? I know I have. I love this one because it has wider straps at the top so your bra straps won't show, plus I love the length of this top. It comes in red and black, and is on sale for $29!
Lane Bryant tie-front button top. I love this blue color, and I love a tee that ties up! I feel like it gives you great shape and looks more polished than a shirt that hangs and has no shape. I have definitely gotten more comfortable tucking in shirts over the last few years, but if you aren't, tees that tie like this can help give you that same shape without tucking your shirt in. This would be so cute with a pair of white shorts or jeans you already have in your plus-size summer wardrobe! It's on sale for $26!
Lane Bryant tie-front tee. This is such a cute tee and comes in several different color options and it also has a long option in several sizes. This tie-die print is my favorite! Another great option that you could dress up or down. On sale ranging from $17-20, depending on the print. Free shipping at Lane Bryant for orders over $49!
Torrid navy and White star button front dolman top. I think this is such a cute top, especially for Fourth of July, but this is something I would reach for over and over. It would be so cute with white shorts or jeans, and you could pair it with sandals or wedges. I have tops like this from Torrid in this same cut and they are so flattering! This top gives you a great shape. $39.50, but would end up being cheaper if you have Torrid Cash!
Torrid red dip-dye challis tank. I am OBSESSED with this tank and just added it to my cart. I love the dip dye and I think it's so fun for any season. Pair with with shorts and sandals for summer. Throw a light cardigan over it for spring. Wear it with a denim jacket for fall. The options are endless and will go well beyond your plus-size summer wardrobe. Tank is $39.50 and can be purchased using Torrid Cash!
Torrid mint blue textured satin pullover tank. This would be another great staple for your summer wardrobe, but would pair with other items for other seasons (think denim jacket, cardigan, blazer). I have these black paperbag ponte pants that I would pair this with. Throw on a pair of heels and that would be a cute work outfit!
Torrid harper white pullover tank. I love the button and pocket details on this white tank. You could dress this up or down with shorts or jeans for tons of different looks. I know this will get a lot of wear in your plus-size summer wardrobe! It's $45, but would be cheaper with Torrid Cash.
Dresses/Jumpsuits
Anyone else miss going to brunch? I think these dresses and jumpsuits below would be so cute for a fun brunch, date, the office and more!
Old Navy chambray dress. I have last year's version and I love this dress so much! I'm about to order this one because I feel like you do so much with a good chambray dress. You can dress it up or down. You can add different accessories and jewelry to make it a different look. The options are truly endless! I've worn mine for work, to brunch, on a date and running errands. This is $38 but you do get free shipping!
Old Navy black print off-the-shoulder jumpsuit. I love everything about this jumpsuit! The tie waist gives you a great shape and the print is so fun, but not too much print if you're afraid of print. This version is on sale for $38 and qualifies for free shipping. There's also a plain black and teal print at regular price.
Old Navy embroidered jumpsuit. This is another great jumpsuit option for your plus-size summer wardrobe that is comfortable and fashionable! Comes in navy and maroon with embroidered detail. On sale for $35 and free shipping!
Torrid black studio knit wide leg jumpsuit. This lightweight jumpsuit will keep you cool in the summer and can be worn year-round for everything from brunch to work to weddings and more! On sale for $55 and is eligible for Torrid Cash!
Torrid tie-dye button down dress. This is such a chic way to wear tie-dye! Sadly this one is sold out in everything but a size 30, but wanted to share because that's such a great size range! On sale for $45 and eligible for Torrid cash.
Shoes
Here's a quick roundup of some on-sale shoes I think would be great for summer! If you worry about wide widths, I love Torrid for those. All of their shoes are wide, so you don't need to size up and pray they fit!
If you know me, you know that I am pretty much always in flip flops or sandals, but I love love love these tennis shoes! You can get them in medium, wide or extra wide in a variety of sizes. They are on sale for $23 and are a steal!
I don't have an affiliate link for my tie-dye top here, but it's from an amazing plus-size boutique called Kervology! I love the founder and her mission to provide cute, boutique-style clothing for plus-size women. Click here to snag it for your plus-size summer wardrobe; only 1X left!
Sketchers black flip flop sandals. They'll go with everything and be super comfortable! $20 on Amazon with prime shipping and you can try these on through Prime wardrobe.
Torrid cognac mules. Great Madewell dupe, especially if you need a larger size/wider width!
Torrid black flatform sandals. I have last year's version and the footbed on these is so soft and comfortable. I wore these all over Washington, D.C. and Las Vegas last summer. I can't wait to order this year's version for my plus-size summer wardrobe! They are $49.50 but are cheaper with Torrid Cash.
Torrid gold-tone cork platform sandal. So cute, would go with everything in your plus-size summer wardrobe and on sale for $20!
Torrid taupe slingback sandal. I have several versions of this sandal in other colors. They are so comfortable and fit a wide foot perfectly. Can't wait to order this nude pair! $39.50; will be cheaper with Torrid Cash!
Kenneth Cole Reaction wedges. These are a steal at $37.48 and come in black and brown!
Sofft reston smooth sandal. These are over 50% off at $37 and look like they would be so comfortable and go with everything in your plus-size summer wardrobe!
Steve Madden platform sandals. These are also a super steal for $37 for the black and brown, and $49 for the snake print!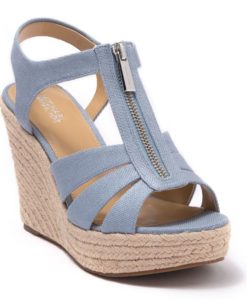 Michael by Michael Kors blue wedge sandal. These scream spring/summer to me and would go with all those cute sundresses in your closet! I have the cutest white sundress I would pair this with for a fun brunch or date day. Huge steal at $45!
I hope you enjoyed my summer wardrobe recommendations! Remember, buy what makes you feel comfortable and enjoy creating the style you want and you feel comfortable in. Comment below and let me know what you get! Is there something else you're looking for? Something you need help styling? Comment below. I would love to help you out!